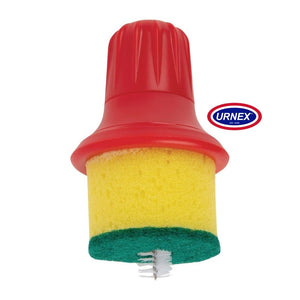 Urnex Scrubz
Sale price Price Dhs. 50.00 Regular price
A multi-part, multi-function brush designed for cleaning traditional espresso machine components.
Sponge brush is designed to reach and clean the portafilter spout
Bristle brush can be used to clean drip trays and accessories.
Handle and sponge are sold together, while a replacement pack that includes the bristle brush and an extra sponge is also available for purchase.
Instructions:
1.  Create a cleaning solution with Cafiza Powder, Biocaf Powder or Puro Powder, following the directions.
2. 
Dip the Scrubz sponge into the cleaning solutoin.
3.  Press sponge into the portafilter. Make sure the basket has already been removed.
4.  While in portafilter, twist sponge to ensure thorough cleaning.
5. 
Rinse all parts and sponge.