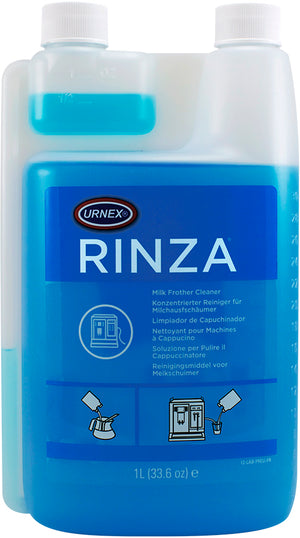 Urnex Milk Frother Cleaner Liquid
Sale price Price Dhs. 90.00 Regular price
For use on the milk systems of coffee and espresso equipment

Built-in measuring device delivers over 30 uses per bottle

Removes milk residue that builds up on steam wands

Suitable for automatic milk frothers and manual steam wands

Breaks down milk protein buildup

Automatic Milk Frothers
Concentrated formula eliminates residue in group heads, valves, and lines.

Tablet form for easy and controlled dosing into delivery chamber or group head.

Available in multiple tablet sizes for a broad range of full automatic machines.

Offers flexibility with traditional espresso machines and can be used to perform backflush cleaning.
Steam Wands
Mix solution of 30ml of Rinza Milk Frother Cleaner per 500ml of cold water.

Soak parts or steam wand for 15 - 30 minutes in the cleaning solution.

Rinse all components
Rinza® Milk Frother Cleaner is specifically designed for use on the milk systems of coffee and espresso equipment. An integral component in the daily cleaning regimen, Rinza® easily removes milk residue that can build up on steam wands, valves, and tubes. Suitable for use on automatic milk frothers, manual steam wands, traditional and super automatic espresso machines, Rinza® provides users with a versatile and effective solution for their cleaning needs. The bottle features a built in measuring device that measures in both ounces and milliliters.  This 32 ounce bottle delivers over 30 uses.