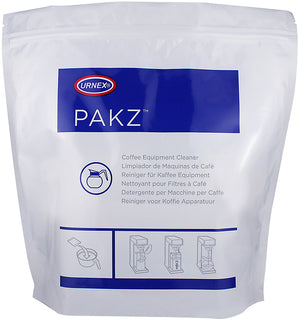 Urnex Coffee Equiment Cleaner bag of 20 pkts
Sale price Price Dhs. 30.00 Regular price
Main Features:
Cleans brew basket and server simultaneously in one simple step

Filter-paper packets allow "brew-in-place" use

Tea paper eliminates need to measure or dose cleaning product

Blue safety dye helps ensure proper rinsing in busy service environment

Use Pakz with Café Wipz Coffee Equipment Cleaning Wipes, Dezcal Activated Scale Remover (powder) and Grindz Grinder Cleaner
Description:
Pakz Coffee Equipment Cleaning Packets provide users with a quick and efficient method for cleaning both brewers and servers at the same time.

By placing a Pakz packet into the brew basket and running a brew cycle over it (much like our Tabz Coffee Equipment Cleaning Tablets), the tea paper surrounding the product allows the detergent to flow down into the server beneath.

By eliminating the need for the user to measure or dose the cleaning product inside, Pakz greatly reduces waste and improves efficiency.

Complete with blue indicator dye to ensure proper rinsing, Pakz allows users in busy service environments to easily maintain their equipment.