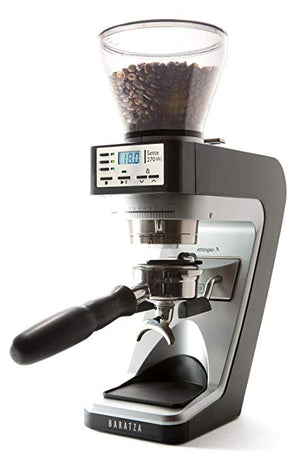 Baratza Sette 270Wi
Sale price Price Dhs. 2,520.00 Regular price
The Sette 270 W
i
introduces two revolutionary design innovations to espresso grinders and enables incredible functionality for home users. This machine is the first – and currently the only – espresso grinder offering grind-by-weight functionality directly into a portafilter. Precise, accurate dosing to within a few grams (2- 3 beans!) directly into your portafilter makes quality, consistent espresso a breeze.
The mouthfeel and flavor clarity of espresso pulled on the Sette out-classes other home espresso grinders. The multitude of features offered by the Sette makes dialing in espresso simple and hassle-free. Thirty steps of macro-adjustment and a fully stepless micro-adjustment system gives the user a near-infinite number of grind settings to allow for the best, most precise dial-in on any Baratza grinder. This allows room for even the most attentive taster to explore delicate layers of sweetness, acidity, and body for all types of espresso from classic Italian dark roasts to progressive light roasts. The Sette excels at fine grinding up to and including small, single-cup pour-overs.
The Sette features our radically redesigned gearbox and burrset in which the outer ring burr rotates around a stationary cone burr. This design allows for high-speed grinding – up to 5g per second – as well as minimal retention of coffee in the system. Most burr grinders utilize a small pathway through which ground coffee passes. On the Sette, coffee simply falls from the burrs down into your portafilter. The machine is equipped with a digital scale utilizing Acaia technology that holds three adjustable and precise presets. This allows you to save three different dose weights for a variety of uses.