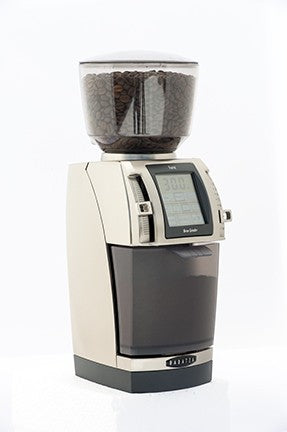 Baratza Forté BG Coffee Grinder
Sale price Price Dhs. 3,999.00 Regular price
Baratza's back with another mechanical masterpiece: the Forté. It's their first take on a commercial coffee grinder and it's already one of the most celebrated products of 2013. So what makes the Forté so special?
Versatility. The Forté is available with either steel or ceramic 54mm burrs, offering viable solutions for both brewed coffee and espresso grinding. Cafes that need a small grinder for decaf, single origin espresso, brew bar, or a backup should end their search here. Brewing at home? One of these Fortes is right for you.
Precision. Its muscly interior is operated by a touch-screen interface and 260 stepped adjustments, offering accurate and intuitive control of grind setting and, thereby, coffee extraction and flavor. Time- and weight-based programmable dosing allow for quick, repeatable results, so using the Forté in your shop won't slow you down.
Durability. This baby behemoth is built to last. The Forte's adjustment switches, portafilter holder, and entire enclosure are metal, so it feels sturdier than any of its predecessors — and it'll last longer, too. It's a true commercial-grade machine that won't disappoint in a café setting.
Baratza Grinder Comparison Chart