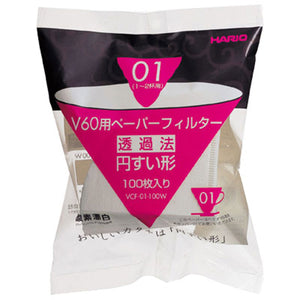 Hario V60 Paper Filter 01 W 100 sheets
Sale price Price Dhs. 25.00 Regular price
أوراق ترشيح هاريو في 60 01: مكونة من 100 ورقة ناصعة البياض لتمنع اي فتات قهوة من الوصول إلى كأسك.
A pack of paper filters for the V60 series. These filters are compatible with the 01 type (1-2 cups). Made with 100% oxygen bleached paper pulp.
This product has acquired the Forest Stewardship Council.
ARTICLE NO.
VCF-01-100W  
COLOR
White  
SIZE
 
CAPACITY
1-2 cups  
WEIGHT(incl.individual box)
approx.100g  
MATERIAL
 
 
MADE IN JAPAN