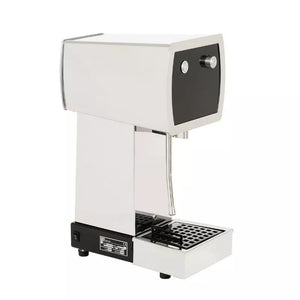 LA MARZOCCO WALLY MILK STEAMER
Sale price Price Dhs. 0.00 Regular price
To order this product, please call us 0526413272.
Automatic milk steamer: creates the perfect milk every time.
Fitted with safe, clean, efficient Pro Touch steam wand.
Multiple sensors track temperature and consistency.
Allows to record up to 20 recipes.
Adjustable tray mimics the movement of the barista.
Connects directly to most commercial espresso machines..
Includes three milk pitchers (250mL, 400mL and 700mL).




La Marzocco Wally Milk is an automatic milk steamer which will create the perfect milk every time. It makes easy for anyone to steam milk with no waste and minimal training. Its adjustable tray mimics the barista's motions, freeing up their hands for more important tasks. It is fitted with the Pro Touch steam wand that prevents burns and milk from sticking to the wand. And an infrared sensor monitors the steaming temperature to assure maximum consistency. The digital display with intuitive programming makes it easy to use and the USB port allows future upgrades.
You can save over 20 recipes for flawless delivery of your unique beverage options. This makes it easier to work with dairy and non-dairy milks and a multitude of temperatures and levels of milk aeration. Also comes with three milk pitchers (250mL, 400mL and 700mL). Moreover, its infrared sensors automatically recognize which pitcher is in use. And it's possible to use any matte finish pitcher, between 250mL and 700mL. You can connect it to all professional La Marzocco and Modbar machines, as well as most other commercial espresso machines. With Wally Milk, every pour is picture perfect. Whether you are serving one customer or one hundred, it will keep up with your cafe's demands.
Price : AED 16,500 


Custom Color- Black , red and White                        AED 17,000
GB5 X & GB5 S - Right side - Left side                      AED 350

Linea PB & KB90 - Right side - Left side                   AED 350
Linea Classic - Right side Linea Classic - Left side    AED 350

Strada AV                                                                     AED 650

Modbar Steam                                                            AED 800

Linea PB & KB90 - Right side - Left side                  AED 350