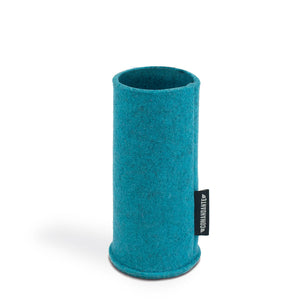 COMANDANTE C40 Sleeve – Lagoon
Sale price Price Dhs. 131.00 Regular price
Wool felt was a popular choice because of its excellent characteristics
·  elastic and breathable
·  UV-resistant
·  wear-resistant and shape-holding
·  temperature insulation
·  temperature resistant from approx. -40°C – +110°C
·  dirt-repellent
·  wrinkle-resistant
NATURAL AND SUSTAINABLE
Description
Country        : Germany

Processing  : Handmade in Germany

Color            : Lagoon

Disclaimer  : Grinder not included with sleeve.

Measures    : Diameter approx. 7cm – Height approx. 16cm – Weight approx. 30g

Material      : 100% Merino lambswool
Care Instructions: 
Your Felt Sleeve is a natural and high-quality product made using 100% premium merino lambswool. The lanolin naturally present in the wool and the density of the material make it resistant to dirt.
In the event your Felt Sleeve does get dirty, simply clean it with a damp cloth or brush clean using a soft brush.
For more stubborn stains, use a little bit of wool detergent or wool shampoo.
After washing your Sleeve, re-shape it, lay it flat on a towel, and allow to dry at room temperature. If necessary, steam lightly.
Wool needs time to dry.